The real neat thing about going to my Knitting Group meetings is that I learn something new every time. Books are great but I love to get together and learn from other ladies who love to crochet and knit.
Connie
brought quite a few of dishcloths she has made which combine knitting and crochet. She knits them and adds a crochet border which adds so much. She held a crochet session for those who were interested in the basics of crochet. I think she had enough lessons for upcoming meetings. I noticed some of the ladies were having trouble even making a chain. I tried to encouraged them not to give up, because it does get better and easier.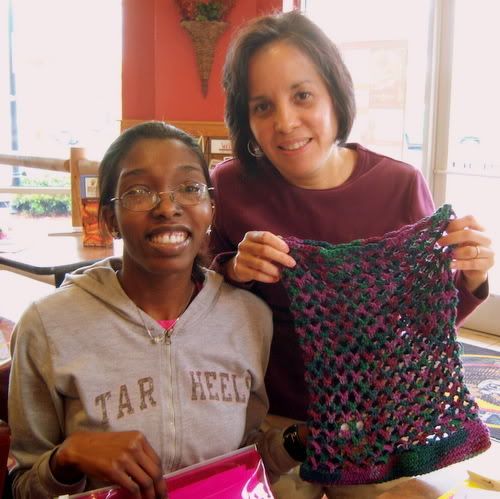 Manchelle is an avid crocheter and knitter. The market bag I'm holding is one she has been using to teach. She was so sweet and gave me the pattern sheet. This
pattern
is also available online.
Manchelle also brought these cute knitted slippers which would make great gifts. She shared the
pocket book slippers
pattern and I can't wait to try it.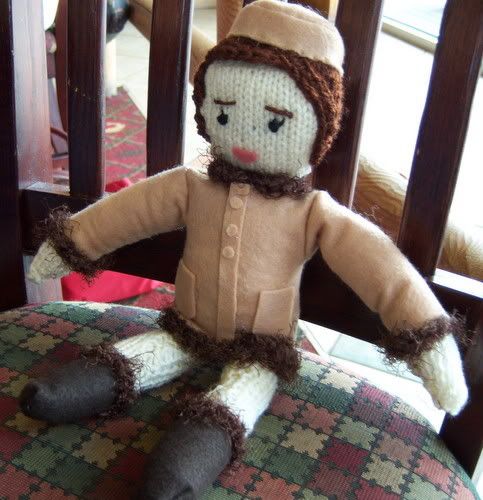 It's always so nice to sit and chat with
Rose
and she brought Jackie O to the meeting. She could not believe I was still working on my fish. I'm not really that bad starting and not completing my projects. This fish though has so many scales and they all have had to be blocked because of their curling tendency. Don't worry Rose, I'll have it finished soon.
I worked on my
Crochet flower hot
pad and completed the border which Connie suggested.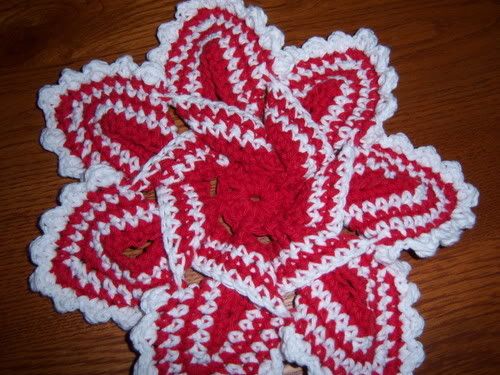 Turned out pretty. I love red and white in the kitchen so I guess I'll keep this one. Connie tried to steal it during the meeting. Actually I'm flattered that she'd like to keep something I made.