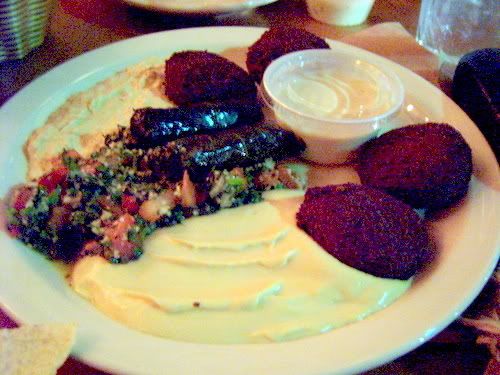 We have a new restaurant in Union County very close to our home. I've been anticipating it's opening because when I visited Panama last year, my sister took us to a restaurant that served middle eastern food. The food is very flavorful since they season with garlic, lemon, parsley and mint. The few dishes that I have tried I like, such as
Fattoush
salad,
Falafel
and Tabbouleh. The name of this new restaurant is Alladin's Eatery.
Friday night me and Cliff went after work. We arrived around 6:30 p.m and the place was packed. So when our waiter introduces himself, Cliff asks "Where's Alladin?" Very funny. Cliff, who had also tried this type of food in Panama decided to order the beef kabobs. His dish consisted of meat accompanied by rice and a very strong garlic sauce. He was disappointed that his entree did not include a vegetable or a salad. Usually kabobs come on a stick with vegetables, not the middle eastern ones I guess.
The food you see in the picture is what I ordered. It is an appetizer and I'm not sure I'll order it again. Cliff commented, "Well if you had no teeth, you'd have no trouble eating this food. This appetizer came with three different kinds of sauces (dip consistency), tabbouleh and the brown looking patties are Falafel. My friend Donna was there too. I saw what her daughter ordered, Salad Pita Bowl and it looked great. I highly recommend Fattoush salad; I'll be sure to order this next time. The cakes and cheesecakes they serve are one of the best I've ever seen, even better than the desserts you can get at the Cheese Cake Factory. I'm serious the portions were huge and the selection was incredible. I did not try any this time.