Loved having Caleb and Taite around eventhough our time together was short. I spent a few hours with them this past Monday while Andrea joined her husband Travis at the Southern Baptist Convention which took place in Greensboro. I'm glad the children do remember me when they come to visit. This makes babysitting much easier. The hardest part I would say was not being able to leave both boys alone in the same room...Caleb like every 3 yr old who has a small baby brother can at times be a bully so I had to be careful to keep an eye at all time. Caleb loves to listen to me read stories. The picture also shows Taite playing with the night light

.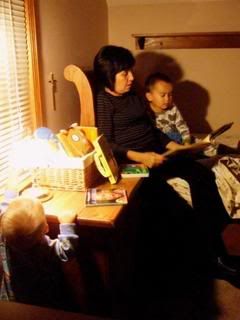 Taite worked on walking - he's almost there. I loved getting so many sweet hugs from him. He looked so proud of what he's been able to do now. By Thanksgiving he might be walking on his own. For now he goes from cabinet to cabinet to chair, etc..Very smart baby.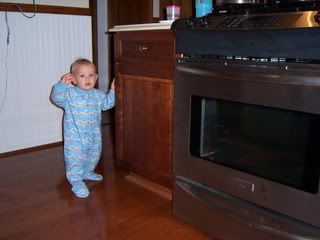 The morning before they left we took this picture on our front porch.